Inspiration
It is found in everyday life via nature, architecture, Japanese art … Its roots lie in the Renaissance, in history, in period costumes or even an old handbag ….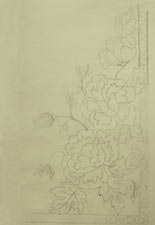 Patterns
Undeniable, essential : the pattern captures an idea and harmonises it. On tracing paper, it is separated into millimeters, meticulously following the design of a piece to be created. It is the memory of the creative process.

Pattern transfer
First pricked and then transferred to the fabric or material to be embroidered, the pattern is set in keeping with the ancient practice of the embroidery trade.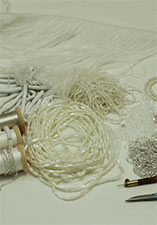 Materials
Noble as crystal, mother-of-pearl, gemstones, gold or silver leaf and threads…. Delicate as silk or cotton, soft as mink and light as feathers. Bright and shiny as pearls, rhinestones and sequins. Hard as metal, supple as leather and stretchy as silicone…everything can be embroidered.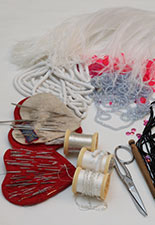 Creation
The work is always done flat on a mounted frame, respecting clearly defined rules. The hand carefully moves along the canvas on the front and back sides using the needle or Lunéville hook technique. Rigor, precision, patience and strong eyesight are essential traits that, with experience, transform the piece into a unique work of art.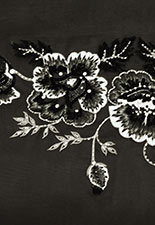 Finished product
The designer, milliner, shoemaker, furrier or tapestry-maker give shape and life during construction or assembly, creating custom-made pieces.