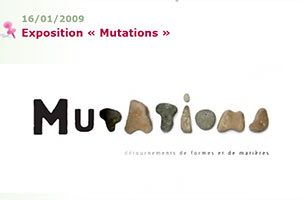 Sur le Web
On the web
Looks are deceiving and this exhibit will no doubt impress you….BLOG MARIE-CLAIRE IDEES 01/09. Web reference ATOME 77.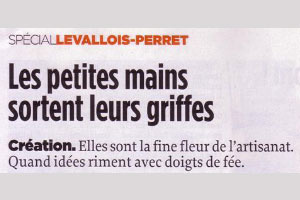 Magazine
Magazines
LE POINT – October, 2013 – SPECIAL LEVALLOIS-PERRET – Magic fingers. Creation. They are the arts and crafts industry's finest. When ideas and dexterity unite. VICTORIA DAROLTI – Hooked on haute couture – Embroidery? A childhood dream for Victoria Darolti, 42….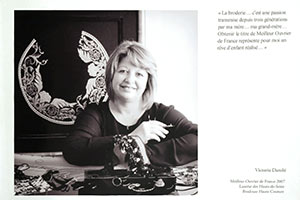 Communique
Press releases, exhibits
Since 2004, Victoria has been a member and expert recorder for the regional jury of the S.E.M.A. youth award. "Top Metier" '92 (CNIT La Défense) 03/09. Exhibitions: "Mutation – Les ateliers de Paris" – Dec and Feb 08/09. 11th "Ruban Bleu" exhibition – Levallois-Perret – 11/08. "Levall Escale" – Levallois-Perret – 09/08. Trade forum at the Collège Maison.