"A childhood dream come true"
Third-generation embroiderer Victoria Darolti has practiced the art of needlework since the age of 9. Stitch by stitch she explored lace, sewing, knitting … and ultimately established herself as an artistic embroiderer. For over 30 years, all types of fabrics, sequins, Swarovski jewels in silicone and other polymers have glided through her experienced and agile hands. Victoria treats and sublimates every kind of material. From cutting up and reinventing her sister's clothes to using her brother-in-law's bespoke clothing workshop as a playground: today her creativity and unlimited curiosity are equalled only by her experience. Artistic embroidery is a profession; her passionate and unconditional love for it brought her to the École Lesage in Paris at the age of 27 where she completed a professional internship in artistic haute couture embroidery, interior decoration and the "prick and pounce" technique. As a sample-embroiderer at Ateliers Vermont, she worked on collections for fashion houses whose names evoke exceptional refinement and elegance: Givenchy, Chanel, Valentino, Dior, Armani…. She "illuminates" stage costumes and wedding gowns; her adaptability, expertise and originality also allow her to meet the expectations of luxury ready-to-wear companies such as Prada, Versace, Emilio Pucci, Gianfranco Ferré…. Using the needle and Lunéville hook technique, she practices the art of personalizing patterns and embroidery in areas as varied as tailoring (for wedding gowns, ball gowns, ready-to-wear and haute couture) and home furnishing (armchairs and medallions, curtains, tiebacks…). In 2008 she created Ateliers Darolti.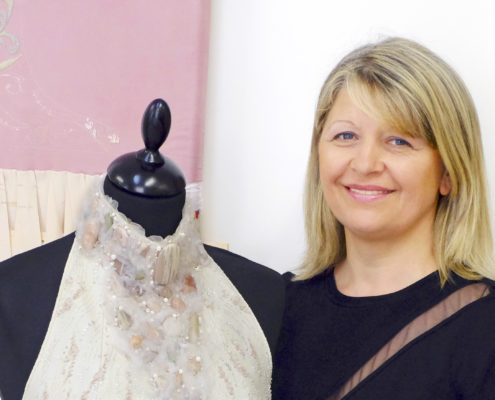 Victoria finds inspiration in everything that surrounds her and catches her discerning eye: she can give form or shape to and interpret or stylize nature, architecture, painting … In her expert hands, silk, leather, feathers and mother-of-pearl are transformed; combinations as harmonious as they are unexpected meet every challenge to surprise and even dazzle us. Through her passion she communicates soul and emotion.